The biggest test series of the year has on offer some big balls that will be lost during the Australian summer.
Who do we think it will be ? Glad you asked.
At number 3.
Graeme Smith.

What the who the what the what the who ?
Scorer of 5 hundreds this year. Average of 50 . How does he get on the list you ask?
Its 'Stralia mate. Smith is going be targeted cuz frankly the Aussies don't like him or his big muppet mouth.
With an outstanding average of sub 25 against the Aussies, its down to 20 when he visits the land down under, Smith will wish he was playing Bangladesh before the 2nd test starts.
Its true that Mcgrath and Warne will be missing. But Lee, Johnson and Sizzle are unlikely to let Smith get away. All 3 bowl excellent lines out side the off stump at a good click with swing. Smith no likey the swing.
Verdict

Nutless.
If he scores a hundred we will write an entire post on how awesome it is that a man of his 'stature' did his nation proud
Are you fucking kidding me. Of course we wont.
Número Dos
Andrew Symonds.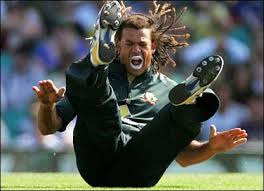 Fishing seems to have messed with his head. He looked ordinary against the Kiwis and has a record against the Saffers that Smith himself would be embarrassed by.
Symmo is a very good player against spin and with SA having none of those finger tweaking types the raw pace of Steyn, Morkel might worry him. He was troubled by Nel the last time the South Africans toured so even Ntini might have a shot at this.
This is a bit of a punt on our part though, with the IPL transfer window looming, Symonds might just show us why he is one the most devastating batsmen in cricket.
Verdict

One-nut-Roy by the end of the tour.
The GrandDaddy, Number 1 , Mmm Can you feel it ?
Paul Harris


No prizes for guessing why he is picked.
The 47 batsmen who got out to him in test cricket needs to be lined up and tickled with a feather boa till they cry in shame.
Actually Paul Harris might be the reason Symonds does not loose his balls.
When he gets sent over the ropes we will giggle with delight.
And none of that one-arm-in-the-air jumping appeal things after every ball. Fuck I just wanna shoot this fucker when I see him.
Verdict
Fuck off, just fuck off.